In the outback of the Great Karoo of South Africa, at the foot of a mountain with no official name, a Griqua herbalist is teaching a white woman how to heal with herbs.
Oom Johannes Willemse, already in his nineties, was simply cross that it took well-known Afrikaans actress, Antoinette Pienaar, almost 40 years to come to him; after all, he had been dreaming that he would teach her and that she would assist in relaying his knowledge for decades.
When in 2001 she arrived on Theefontein, the farm of her second cousin, Jacques Pienaar, she was gravely ill with cerebral malaria which she had contracted in West Africa, but she stayed on to be healed by herbs and the Karoo.
"Doctors told me to prepare myself for an early death, because my liver and kidneys were severely damaged, but I have experienced first-hand how herbs strengthened my organs again and I am now completely healed. In many cases, conventional medicine takes over the functioning of the affected organ, but herbs strengthen the organ so that it can function on its own. Herbs work on a physical, as well as an emotional level in the body and therefore also relieves the symptoms of post-traumatic stress."
In the Karoo with Oom Johannes she also learned about natural art, indigenous herbs, how to make herbal preparations, and how to live life as people of old did.
"In this way the sun shone warmly on my head and the blue sky became the cloak that I wore every day. Being surrounded by the natural balance like this helped me regain the balance in my inner landscape too."
She and the Oom lives on a hill close to the farmstead, in labourer houses sans electricity or running water, on their own yard with animals, birds and peace. In Antoinette's little white house on the hill, stories roll out like river stones: the renowned book, Kruidjie Roer My, was written on an old typewriter in front of the tiny kitchen window. Just like in the book, and Antoinette's Tuesday-afternoon contribution on Amore Bekker's Tjailatyd on Radio Sonder Grense (RSG), this website is meant to relay centuries of precious practical information, stories and remedies, to future generations.
Today, any person can pick up a phone or use the internet to benefit from the ancient knowledge and healing power of herbs, while the true seeker can visit Antoinette and Oom Johannes to rejuvenate body and soul.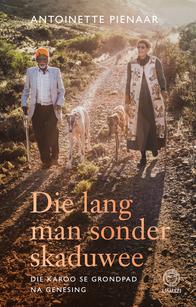 Die lang man sonder skaduwee
In Antoinette Pienaar's new book, Die lang man sonder skaduwee , she continues her journey with the healing power of Karoo Herbs as she has been doing for many years in her weekly program on RSG. Readers also got to know her and Uncle Johannes in The Griqua's Apprentice – Ancient healing arts of the Karoo , who has already taken his place as classical work in Afrikaans.
Antoinette has been working for years in the Karoo with oom Johannes Willemse, the legendary Griqua medicine man. Together, they use the healing powers of herbs to heal people's bodies and souls. In this book she not only gives practical advice on how to use herbs to treat all sorts of ailments, but she also examines the healing power of the ancient stories, riddles and rhymes of the Griquas. She believes that a physical problem often has an emotional origin and that there are healing powers in stories.
Published by Penguin Random House South Africa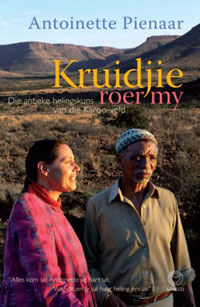 Kruidjie Roer My
Kruidjie roer my – Die antieke helingskuns van die Karoo-veld , written by Antoinette Pienaar, is as much her and Oom Johannes' story as a way to convey the ancient healing art and heritage of the Karoo herbs to future generations.
Published by  Umuzi  and dedicated to Oom Johannes. Kruidjie Roer My is 144 pages of story-telling and a source of knowledge. The book is already in its fourth print and flourishes with the Radio Sonder Grense program "Kruie Kraai Koning" on Tjailatyd, Tuesday afternoons at 4.20pm, when Antoinette talks with listeners about herbs.
The book is being translated into English, and will be available later this year under the title  The Griqua's Apprentice – Ancient healing arts of the Karoo .
Read excerpts from the book (Afrikaans only)...
Kruie Kraai Koning on RSG
Kruie Kraai Koning on Tjailatyd, Tuesdays, 16:30
Antoinette, and sometimes Oom Johannes, chats on national radio station, Radio Sonder Grense, on Tuesday afternoons at 4.30pm, about herbs, remedies and Karoo stories. In the program "Kruie kraai koning" on Tjailatyd, she answers listeners' questions and gives advice for aches and pains, and sometimes even serious ailments. 
" Antoinette Pienaar ventured into my life in the nineties. Her Karoo-humanity stirred me, and I felt: the nation must hear this woman! ' Kruie kraai koning ' hit the RSG-airwaves in 2003 getref, and from there we went from strength to strength. "
– Amore Bekker, presenter of Tjailatyd, during which "Kruie kraai koning" is broadcast. 
The book Kruidjie Roer My is published in collaboration with  Radio Sonder Grense.  
Visit the Media Chamber for previous columns and articles about Antoinette and Oom Johannes, as well as press releases and high resolution photos for media use.
On Theefontein
Visit Theefontein in photos